World-Building: Funding artistic production forms under changing circumstances
Lecture at the "Transformationen der Theaterlandschaft" Symposium
Prof. Dr. Kai van Eikels, Laura Pföhler, Christoph Wirth – Ruhr Universität Bochum
Exposé
The Covid crisis brought on a life-threatening situation for the independent scene, which has been the most important creative motor in the fields of theater, dance, performance, circus and children's and youth culture for the past decades. However, it has been working under extremely precarious circumstances so that artists' aesthetic and often also political/social joy of experimenting regularly coincided with self-exploitation at the very edge of subsistence. In a normality that determined a mode of production with short cycles and low costs as well as few performances despite tour schedules, the closure of production and performance venues during the lockdown led to the system's collapse within a short period of time. NEUSTART KULTUR was able to keep many artists and groups from going under. However, the necessity of remodeling financial, production and performance structures that combine crisis resilience with the support of innovative movements as they are currently already appearing remains.
Our study examines such innovative movements. They focus the interactions between changes in work processes and aesthetic changes. On the basis of "good practices", we point out seminal approaches with which artists from the independent scene have reacted to the challenges in the 2020 and 2021 crisis. The approaches have the following in common: they develop ecological aesthetics for live arts. In a careful exploration and reflection of the current cessation, the study entitled "World-Building" develops the vision of a culture that mediates social, political, ecological and aesthetic processes by offering people opportunities to shape world(s) together - and thus practice the forms and dynamics of what they share in common, and the ability to maintain a self-organized civil engagement for the necessary radical social change.
1. Critical affirmation of digital technologies and own programming of software in online and hybrid formats: The live arts test how artistic ways of working can appropriate implemented software in such a way that its use creates its own freedoms in the framework defined by product design; they also experiment with coding. They use embarrassing moments of technical slip-ups for glitch strategies that, in their functionality, also question social forces, gender conventions and established power structures. Animation thus turns into a general principle of action: the technology – whether it's text chat, telephone or VR – animates us to enliven what it presents to us. Instead of a mass of objects that exist in a scene before our eyes, we experience the world as a milieu to which we ourselves belong.
2. The power of animation is redefining liveness:
Live is currently everything that feels live. Artists are focusing less on the design of overwhelmingly illusionary virtual worlds and more on clever cooperation with the imagination of the participants. Animation thus becomes a general operating principle: technology-whether text chat, phone, or VR-animates to bring to life what it presents. Instead of being a set of objects on a scene before our eyes, we experience the world as a milieu in which we ourselves belong.
3. A remix of the senses – from the image of a scene to an evocative voice: The visual recedes behind voices and suggestive soundscapes – in a reaction to the pandemic-induced screen fatigue but also inspired by the power of ASMR videos to stimulate intense physical relationships online: "The medium is massage." Questions of the borders between bodies can be placed and newly raised.
4. Common world building redetermines the concept of "performance":
The live arts take up formats like Live Action Role-Play (LARP) in order to enable a collective research process in the mode of world building in which participants invent and embody characters. These alternative self-designs question themselves and test the possibilities of living together. A temporary social contract is created that is simultaneously an ecological contract between people and diverse other, realistic and fantastic species.
We recommend: a) enabling longer project durations in order to reflect the increased need for time in software development, learning processes and transdisciplinary cooperations; b) expanding open research processes; c) supporting collective artistic (research) practice to a greater degree, not just in competition with individual projects or individual groups and we thus suggest a new format: network artistic research.
Prof. Dr. Kai van Eikels
| Ruhr-Universität Bochum |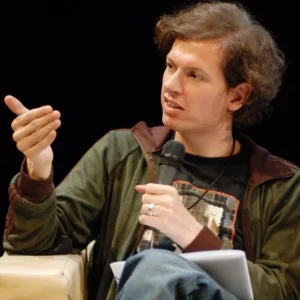 Prof. Dr. Kai van Eikels
| Ruhr-Universität Bochum |
Kai van Eikels ist Philosoph, Theater- und Literaturwissenschaftler. Nach Gastprofessuren in Gießen, Berlin und Hildesheim ist der derzeit als Akademischer Oberrat am Institut für Theaterwissenschaft der Ruhr-Universität Bochum. Seine Forschungsschwerpunkte sind anarchische, selbstorganisierte Kollektivformen; Kunst und Arbeit; Politiken des Performativen; Synchronisierung, Zeit und Materialität; Cuteness. Veröffentlichungen u.a. "Die Kunst des Kollektiven. Performance zwischen Theater, Politik und Sozio-Ökonomie" (2013); "Art works – Ästhetik des Postfordismus" (mit dem Netzwerk Kunst + Arbeit, 2015); "Synchronisieren. Ein Essay zur Materialität des Kollektiven" (2020);
Theorie-Blog: https://kunstdeskollektiven.wordpress.com
Laura Pföhler
| Ruhr-Universität Bochum |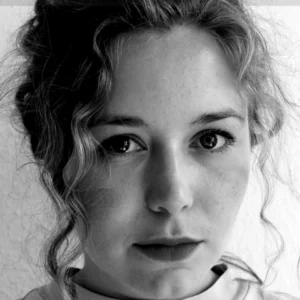 Laura Pföhler
| Ruhr-Universität Bochum |
Laura Pföhler studierte Soziologie an der Universität Mannheim und Kulturvermittlung mit Schwerpunkt Theater an der Universität Hildesheim. Als Mitglied des Kollektivs STERNA | PAU und dem Musiktheater-Netzwerk fachbetrieb rita grechen entwickelt sie als freie Theatermacherin Performances und partizipative Formate in digitalen, öffentlichen und theatralen Räumen. Ihre Forschungsschwerpunkte sind Partizipation, Formen von feministischer Selbstorganisation, Hexerei und Hacking als politische technologisch-ökologische Praxen und Popkultur.
Christoph Wirth
| Ruhr-Universität Bochum |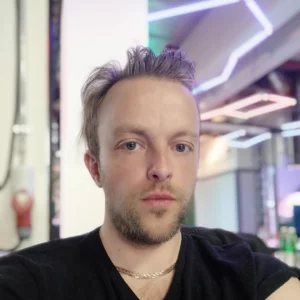 Christoph Wirth
| Ruhr-Universität Bochum |
Christoph Wirth, *1985, arbeitet als Dramaturg, Regisseur und Musiker. Unter dem Namen OS (OBLIQUE SENSATIONS/OBJECTIVE SPECTACLE) entwickelt er interaktive wie -passive Performances und performative Umgebungen an der Schnittstelle von Konzept-Kunst, ästhetischer Forschung und experimenteller Musik. Seit Ende 2019 forscht er an Übertragungen von virtual-reality Technologie für szenische Kontexte. Als Dramaturg arbeitete er in und für verschiedene Konstellationen unter anderem für Laurent Chétouane, PACT Zollverein, das Centraltheater Leipzig und langjährig für die freien Gruppen Internil und Institutet. Gastdozenturen und Workshops führten ihn unter anderem ans TEAK Actors Studio Helsinki, Manufacture Lausanne und die Udk Berlin. Derzeit ist er Stipendiat der Akademie für Theater und Digitalität Dortmund.