Promoting Sustainability
Lecture at the "Transformationen der Theaterlandschaft" symposium
Dr. Maximilian Haas, Universität der Künste, Berlin
& Prof. Dr. Sandra Umathum, Hochschulübergreifendes Zentrum Tanz, Berlin
Exposé
In 2015, the United Nations achieved a legally binding agreement to limit climate change to significantly under 2 degrees centigrade, optimally to a level of 1.5 degrees, in comparison to the pre-industrial level, because the climate consequences beyond this increase of global average temperatures would no longer be controllable. As the latest progress reports from the Intergovernmental Panel on Climate Change proves, the 2-degree marker will already be passed in 2050 if no immediate, fast and drastic reduction of greenhouse gas emissions takes place. In comparison to agriculture or industry, the CO2 emissions caused by the independent performing arts may seem marginal. However, measured against the planetary stress limits, they are clearly too high. This will play a decisive role in the development of the independent performing arts in the coming years and decades. These transformations should be actively shaped and not passively suffered through – this means change by design and not by disaster. The time period for pro-active action is increasingly closing. What contributions do the independent performing arts need to make so that the effects of climate change remain controllable? How do they also need to reform themselves, above all in their methods of production, in order to keep their percentage of processes of climate warming and environmental destruction as minimal as possible? What role can they play in inventing fundamentally alternative forms of production and care activity that have an effect as models on other fields of the societal economy as well?
The partial study highlights the interactions between anthropogenic climate warming and related ecological problems on the one hand, and the production methods of the independent performing arts on the other, all subsumed under the term of sustainability in two main parts. The first of these parts discusses, under the guiding principle of infrastructure, primarily institutional fields of action such as operational ecology, climate accounting and strategic sustainability management, sustainable buildings, material infrastructures and circular economy as well as sustainable production. The second part focuses, under the guiding principle of mobility, on the relationship between travel, support policies and precarious existence and working methods, on financial and organizational conditions of choosing means of transport, the justice of mobility as well as the problem of an ecological sustainable guest performance and touring business. In the process, the partial study critically evaluates existing initiatives, measures and specifications, tests its potential as a model, determines needs and support possibilities and formulates goals for sustainable production. Results from climate research as well as an intersectional understanding of ecological sustainability in the sense of climate justice that is applied to production relationships in the independent performing arts serve as a foundation.
The field of sustainability is broad and heterogeneous. The associated measures create a bundle of highly specific interventions and transformations in all business activity; from the artistic and curatorial work to the administration, the crafts, building management all the way to the audience. Since the field's institutions and organizations participate in some of the environmentally central branches such as the transport and energy sector or the building, material and garbage business, not all of the financing for these measures can be taken from cultural funding. The environment and economy departments are just as much in demand here as, for example, CO2 pricing revenues. Due to its societal draw, the field of the independent performing arts is an excellent place for the comprehensive establishment of a culture of sustainability from these funds.
Dr. Maximilian Haas
| Universität der Künste Berlin |
Dr. Maximilian Haas
| Universität der Künste Berlin |
Maximilian Haas ist Theater-/Medienwissenschaftler sowie Dramaturg und lebt in Berlin. Er ist Postdoktorand am DFG-Graduiertenkolleg "Das Wissen der Künste" an der Universität der Künste Berlin. Haas studierte Angewandte Theaterwissenschaft an der Justus-Liebig-Universität Gießen und wurde mit einer praxis-basierten Dissertation zum Thema "Tiere auf der Bühne: Eine ästhetische Ökologie der Performance" an der Kunsthochschule für Medien Köln promoviert. Seine wissenschaftliche Forschung umfasst die Theorie und Praxis von Dramaturgie im zeitgenössischen Tanz und Theater, die Ästhetik performativer Künste, die Methodik und Epistemologie künstlerischer Forschung, Science und Animal Studies sowie ökokritische Diskurse. Das aktuelle Projekt befasst sich in performancetheoretischer Hinsicht mit ästhetischem Wissen und künstlerischem Handeln im neuen Klimaregime. Haas war an der Volksbühne am Rosa Luxemburg-Platz Berlin und den Berliner Festspielen engagiert und kollaborierte dramaturgisch mit Künstler*innen wie Hannah Hurtzig (Mobile Academy Berlin), Lucie Tuma, Martin Nachbar und Jeremy Wade. Mit Margarita Tsomou kuratiert er seit 2018 die Diskursreihe "Burning Futures: On Ecologies of Existence" am Berliner HAU Hebbel am Ufer.
Prof. Dr. Sandra Umathum
| Hochschulübergreifendes Zentrum Tanz Berlin |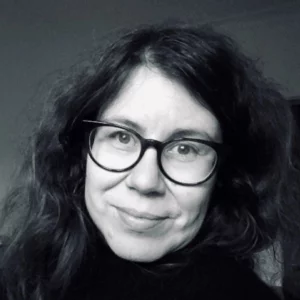 Prof. Dr. Sandra Umathum
| Hochschulübergreifendes Zentrum Tanz Berlin |
Sandra Umathum ist Theater- und Performancewissenschaftlerin, Dramaturgin und seit 2020 Professorin für (Angewandte) Theorie Tanz, Choreografie, Performance am Hochschulübergreifenden Zentrum Tanz Berlin (HZT). Von 2010 bis 2012 war sie Gastprofessorin für Dramaturgie an der Hochschule für Musik und Theater "Felix Mendelssohn Bartholdy" Leipzig und von 2013 bis 2018 Professorin für Theaterwissenschaft und Dramaturgie an der Hochschule für Schauspielkunst Ernst Busch in Berlin. Sie promovierte mit "Kunst als Aufführungserfahrung", einer Studie über intersubjektive Erfahrungen in der Ausstellungskunst (transcript 2011) und ist Mitherausgeberin u. a. von "Disabled Theater" (diaphanes 2015) oder "Postdramaturgien" (Neofelis 2020). Zu ihren Forschungsschwerpunkten zählen Theorie und Praxis des Gegenwartstheaters und der Performance, Relationen von Darstellender und Bildender Kunst seit den 1950er Jahren, Performance & Disability, Performance und/als Dokumentation, Schießen (mit der Waffe und mit der Kamera) sowie neue Formen und Praktiken der Dramaturgie. Im Rahmen von Impulse Theater Festival kuratierte sie 2018 die "Akademie des Prekären #2: Unsichere Begegnungen" (studiobühne Köln). Außerdem war sie Ko-Kuratorin von "Dirty Debüt", einer Veranstaltungsreihe zur Unterstützung junger Performance Künstler*innen (Sophiensaele Berlin, 2018/19; Ballhaus Ost, 2020).