2018 George Tabori Prize
On May 25, 2018, the George Tabori Prize was awarded for the 9th time by the Fonds Darstellende Künste for ensembles and artists from the independent theater scene. The six nominated groups were selected from more than 300 groups supported by the Fonds Darstellende Künste over the past five years. With the most distinguished national award for ensembles and artists from the independent theater scene, the Fonds Darstellende Künste honored artistic expressions of particular brilliance.
The Award Winners
The main prize, endowed with €20,000, was awarded to the theater collective copy & waste, which, according to the jury's statement, "seduces the audience with brilliant language, glamorous music, and the virtuoso play with artful plagiarism [...] to bitter lies and dazzling truth" and thus creates "a unique intellectual flic flac between discourse and the reality of life [...]".
The jury also honored the Berlin performance collective Turbo Pascal with the incentive award of €10,000, stating that Turbo Pascal "create moderated theatrical audience experiments, shift the perspectives of perception and lead the audience through different [...] worlds of imagination. Accordingly, rethinking and thinking differently is constantly up for discussion [...]. This results in courageous performances, with an enormous pull effect on the audience."
The Award Ceremony
In her welcoming speech the Minister of State for International Cultural Policy, Michelle Müntefering, acknowledged the importance of the independent performing arts and awards such as the George Tabori Prize in terms of their international and intercultural significance.
The subsequent keynote speech by Jean Peters, co-founder of the action collective Peng, was also a plea for the German arts and cultural landscape to be used as a way to transcend borders, curb political trends and thus stand up for a fair civil society.
The laudatory speech for this year's prize winners, copy & waste, was given by the dramaturge and curator Katja Herlemann, and the former director of the festival steirischer Herbst and Vienna City Councillor for Culture, Veronica Kaup-Hasler. The laudatory speech for the winners of the incentive prize was given by the former artistic director of the Theater Freiburg and current dramaturge of the Ruhrtriennale, Barbara Mundel.
With his voguing performance, Eray Güray then demonstrated how the boundaries between art, subculture and gender identities can be crossed. Benedikt ter Braake and Yana Gottheil provided the musical framework for the evening, presenting arrangements by pianist and composer Kai Schumacher on violin and piano. The presenter and actress Kübra Sekin presided over the ceremonies throughout the evening.
2018 Award Jury
Sabine Gehm
Künstlerische Leiterin Tanz Bremen, Kuratoriumsvorsitzende des Fonds Darstellende Künste
Sabine Gehm
Künstlerische Leiterin Tanz Bremen, Kuratoriumsvorsitzende des Fonds Darstellende Künste
Ilka Schmalbauch
Ilka Schmalbauch
Rechtsanwältin und Leitung Recht/Internationales des Deutschen Bühnenvereins. Studium der Rechtswissenschaften, Germanistik und Geschichte an der Universität Regensburg und der Universität zu Köln. Geschäftsführung des Rates für darstellende Kunst und Tanz des Deutschen Kulturrats, Vertretung des Rates für darstellende Kunst und Tanz in den Fachausschüssen Arbeit und Soziales sowie Europa des Deutschen Kulturrats. Mitglied im Ausschuss für Europäische Sozialpolitik der Bundesvereinigung der Deutschen Arbeitgeberverbände. Stellvertretendes Präsidiumsmitglied im Arbeitgeberverband PEARLE* – Live Performance Europe, Vertretung des Deutschen Bühnenvereins und PEARLE* im Sozialen Dialog der Europäischen Union. Mitautorin der Loseblattsammlung "Bühnen-und Orchesterrecht". Mitglied des Kuratoriums der Stiftung Tanz – Transition Zentrum Deutschland. Ilka Schmalbauch ist stellvertretende Vorsitzende des Fonds Darstellende Künste.
Prof. Dr. Wolfgang Schneider
Chairman of the Fonds Darstellende Künste
Prof. Dr. Wolfgang Schneider
Chairman of the Fonds Darstellende Künste
Wolfgang Schneider war Gründungsdirektor des Instituts für Kulturpolitik der Universität Hildesheim und Inhaber des UNESCO-Lehrstuhls "Cultural Policy for the Arts in Development" (2014 – 2020). Er war der erste Leiter des Kinder- und Jugendtheaterzentrums in der Bundesrepublik Deutschland, Vorsitzender des Theaterbeirates Niedersachsen, Mitglied des Beirates Tanz und Theater des Goethe-Instituts und als Sachverständiges Mitglied der Enquete-Kommission "Kultur in Deutschland" des Deutschen Bundestages Berichterstatter u.a. für das Kapitel Theater. Er ist Vorsitzender des Fonds Darstellende Künste e.V., persönliches Mitglied der Deutschen UNESCO-Kommission, Vertrauensdozent der Friedrich Ebert-Stiftung, Mitglied des Bundesvorstandes des Kulturforums der Sozialdemokratie, Mitglied des Vorstandes der Initiative für die Archive des Freien Theaters e.V., Mitglied des Internationalen Theater-Instituts, Mitglied des Rates für darstellende Kunst und Tanz im Deutschen Kulturrat, Ehrenmitglied der ASSITEJ Deutschland und der Schweiz, sowie Ehrenpräsident der Internationalen Vereinigung des Theaters für Kinder und Jugendliche. 2018 wurde er wegen seines ehrenamtlichen internationalen Engagements vom Bundespräsidenten mit dem Bundesverdienstkreuz 1. Klasse ausgezeichnet. Zahlreiche Veröffentlichungen zur Theaterpolitik, Herausgeber u.a. von "Theater und Schule. Handbuch zur kulturellen Bildung" (2009), "Theater und Migration. Herausforderungen für Kulturpolitik und Theaterpraxis" (2011), "Theater entwickeln und planen. Kulturpolitische Konzeptionen zur Reform der Darstellenden Künste" (2014), "Theatermachen als Beruf. Hildesheimer Wege" (zusammen mit Julia Speckmann, 2017); "Partizipation als Programm. Wege ins Theater für Kinder und Jugendliche" (zusammen mit Anna Eitzeroth, 2017), "Performing the Archive. Studie zur Entwicklung eines Archivs des Freien Theaters" (zusammen mit Henning Fülle und Christine Henniger, 2018), "Theater in der Provinz. Künstlerische Vielfalt und kulturelle Teilhabe als Programm" (zusammen mit Katharina Schröck und Silvia Stolz, 2019); "Theater in Transformation. Artistic Processes and Cultural Policy in South Africa" (zusammen mit Lance Lebogang Nawa, 2019).
Matthias Schulze-Kraft
Artistic director LICHTHOF Theater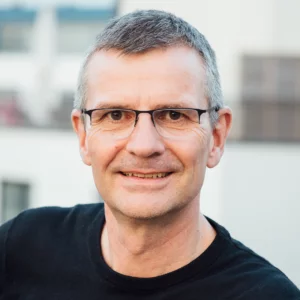 Matthias Schulze-Kraft
Artistic director LICHTHOF Theater
Amelie Deuflhard
Intendantin Kampnagel | Hamburg Jury: #TakePlace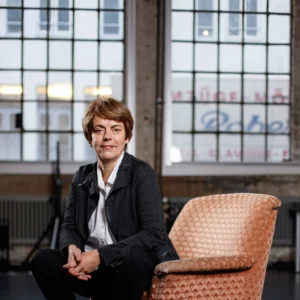 Amelie Deuflhard
Intendantin Kampnagel | Hamburg Jury: #TakePlace
Amelie Deuflhard war von 2000 bis 2007 künstlerische Leiterin der Sophiensæle (Berlin). 2004/05 war sie Teil der Künstlerischen Leitung von "Volkspalast", einer festivalartigen Bespielung des dekonstruierten Palastes der Republik. Seit 2007 ist sie Intendantin von Kampnagel (Hamburg), Europas größtem Produktionszentrum für die Freien Darstellenden Künste. Mit EcoFavela Lampedusa Nord initiierte sie 2014 einen Lebens- und Aktionsraum für Geflüchtete. Das Projekt hat auf Kampnagel seine Verlängerung in dem preisgekrönten Begegnungsort Migrantpolitan gefunden. Amelie Deuflhard war Teil des Viererkuratoriums von Theater der Welt 2017. Sie ist Autorin zahlreicher Publikationen und hat regelmäßig Lehraufträge an Hochschulen inne. Für ihr Schaffen wurde sie 2012 mit dem Caroline-Neuber Preis und 2013 mit den Insignien des Chevaliers des Arts et Lettres ausgezeichnet. 2018 erhielt sie die Auszeichnung Europäische Kulturmanagerin des Jahres